Contact Us
Community for Spiritual Formation
Get IN Touch
Contact & Visiting Info
Community For Spiritual Formation
12, Jalan Lateh Singapore 359110
Mailing Address
71, Wolskel Road Singapore 357975
Operating Hours
TUES – Fri, 9.30am to 5pm
Getting Here
By Car
Search for 12 Jalan Lateh S(359110) as destination. Parking is available within the church compound, turn right immediately after the Bethel Presbyterian Church archway.
By MRT
10min walk from Serangoon Station (Nex Mall)
Use exit B to get to Upper Serangoon Road. Turn right and walk along the main road, past Caltex petrol station, turn into Wolskel Road. Walk down a slope, turn left into Jalan Lateh then turn right to Bethel Presbyterian Church.
Once you enter the Church archway, walk across the carpark to find a small footpath. Follow the footpath, CSF will be on your right.
Community of Spiritual Formation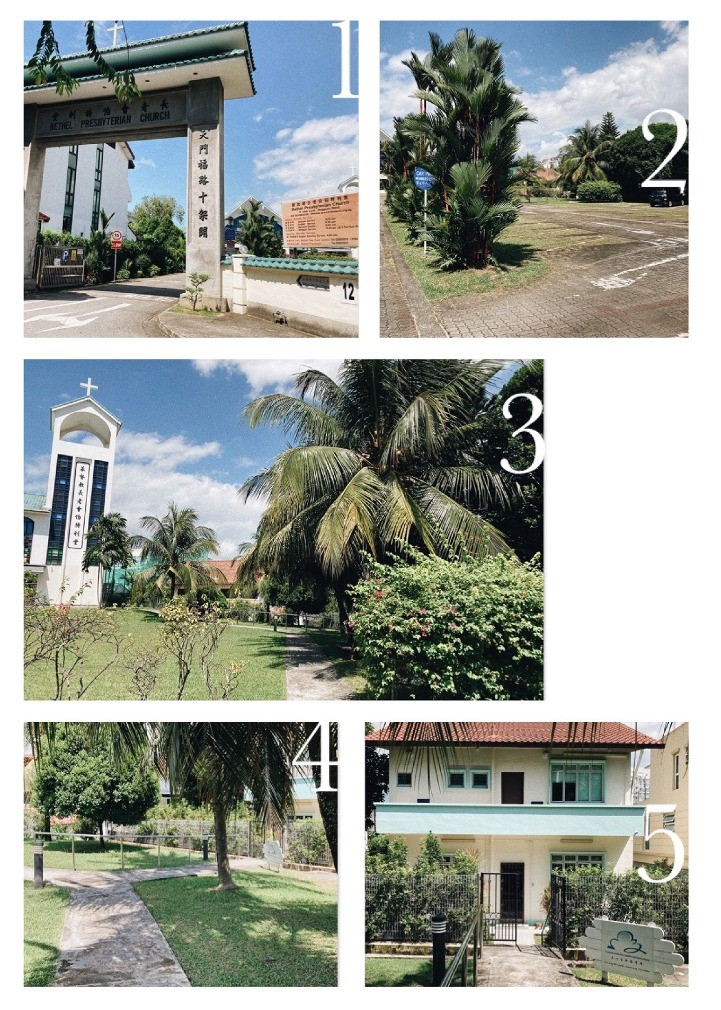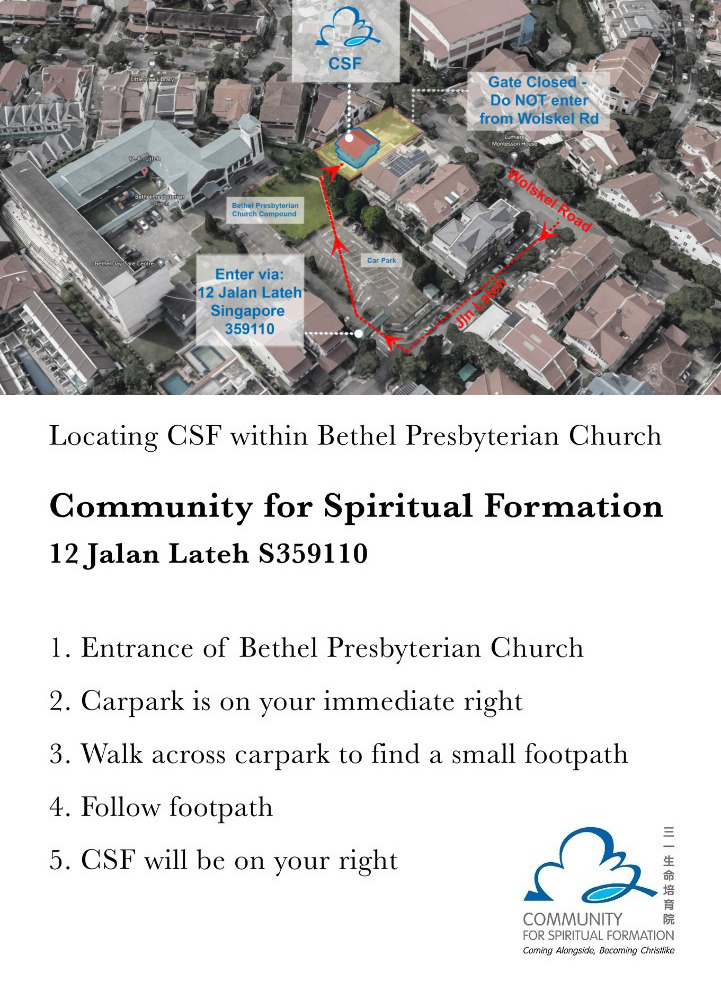 FAQ
Frequently Asked Questions
BE Space & Coming Alongside ~ What are they?
The CSF Physical Space is set up for you to come and meet with the Lord. We call it a "BE" space because you are invited to come and just be, no need to achieve anything, simply BE with God. You can register for an individual room in the morning 9am to 1pm or afternoon 1pm to 5pm. If you would like a full day, please book both slots. Register for BE Space here.
If you would like someone to "Come Alongside", one of the CSF Spiritual Companions will meet with you for 1-1.5 hours to listen with you, and together seek to discern what is God saying or directing you in your Christian life and witness. You can request for a Spiritual Accompaniment session using our Message Form.
There is no charge for use of CSF Space or the Spiritual Accompaniment session. A love gift to CSF is appreciated, you can make one here.
If you would like to have a Guided Day Retreat, there is a fee of $100, including lunch. One of our CSF Spiritual Companions will guide you in your time of reflection. You can request for a Guided Day Retreat using our Message Form.
Noonday Prayer ~ What is this?
This is our community's daily rhythm of prayer – using set prayers, silence, and Scripture. On days when the CSF physical space is open, this time of prayer takes place in-person in the Upper Room, from 12-1pm. 
If you would like to join us at CSF for our Noonday Prayer (NDP), please write to let us know using our Message Form. 
On Fridays, we have lunch together from 1-2pm, you are welcome to stay on after NDP for a simple meal, do indicate in the form if you would like to.
How can I be involved in the work of CSF?
The work of CSF is 90% financed through individual donors. We appreciate your coming alongside the work of CSF in this practical manner, to enable us to come alongside others. You can give to CSF here.
If you are interested to explore the journey of coming alongside others as a spiritual companion, approach one of the CSF core team members for a conversation.
We have a range of Spiritual Formation Courses and Silent Retreats which you can register for here.
A Note about Sponsorship: We have set aside funds for anyone who wants to attend our Courses & Retreats but are unable to afford the fees.
Write to [email protected] for a request form.
Drop Us A Message
If you have any enquiries or prefer to leave a message, please fill in the form below and we will get back to you as soon we can.